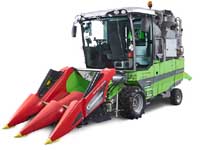 Experimental Plot Combine Harveste:
» The WINTERSTEIGER classic plot combine meets all requirements for a quick, clean harvest, from F3 generation ranges to experimental plots.
» Thanks to its modular system, the combine is suitable for all harvesting conditions and customer requirements. Its dimensions and low weight make the machine easy to transport.

For more details Click Here