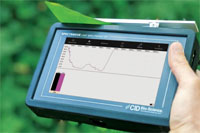 Miniature Leaf Spectrometer Model CI-710S:
» Light weight and portable instrument with touchscreen
» Designed to measure the transmission, absorption, and reflection of Leaf in field.
» Wide range spectrum (360-1100 nm) and single click operation
» The spectrum can be used for the quantification of chemical concentrations, color analysis, the study of photochemical reactions, and the quantification of physical or optical properties such as film thickness, index of refraction, and extinction coefficient.
» Measured parameters (39): Chlorophyll A, Chlorophyll B, Total Chlorophyll, Anthocyanin, Flavonols, Carotenoid, HCA, NDVI, PRI, Water Band/Water Potential, Leaf Senescence etc.
» Inbuilt and ability to create custom indices like Glycine, Proline
» Ability to run continuous measurements or single click measurements.

For more details Click Here