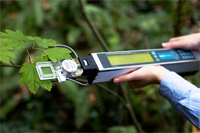 Portable Photosynthesis System Model CI-340 :
» World's most portable(<1.5Kg) and optimized for single-handed operation
» Measured parameters: Net photosynthesis, respiration, transpiration, stomatal conductance, PAR and internal CO2, Temp., chl. flr. etc.
» Stable analyzers for accurate CO2 and H2O measurements
» 9 interchangeable Leaf chambers and soil respiration chamber
» Control modules: Light, Temperature, CO2 & H2O and chlorophyll fluorescence
» Chlorophyll fluorescence and photosynthesis measured simultaneously
For more details Click Here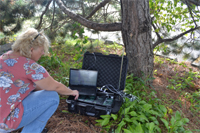 Photosynthesis System (Plant CO2 Analysis Package) Model Q-Box CO650 :
» Designed for measurements of photosynthesis, respiration and transpiration
» Plant CO2 Analysis Package for both the lab or field (with optional battery pack).
» The Q-Box CO650 software automatically checks the reference levels of CO2 and water vapour and provides on-the-go calculations of photosynthesis and transpiration rates.
» Control modules: Light, Temperature etc.

For more details Click Here